It's no mystery that social interactions have been the driving force behind the recent internet surge. Individuals crave personal connections and desire to be acknowledged by displaying their names on leaderboards, chat windows, wallet holdings, NFT listings and a lot more. They want to engage with people, not just anonymous addresses, and establish their own personal brand. However, for this system to function effectively, it requires a universal identifier that can operate across all platforms.
As we are approaching the Web3 age with full speed, the emergence of decentralized identity and various Web3 name services have created robust identity systems, which include readable usernames instead of "0x…" addresses that are portable across individual dApps and blockchains. Those applications greatly improve accessibility, and they will no doubt become a fundamental component of the future world. But there are multiple identities and usernames across different applications and blockchains. And that's the problem of blockchain so far, lack of composability and interoperability. Most identifiers are segregated and limited within different blockchains and dApps, users have been burdened with multiple addresses and usernames across different networks. However, no matter what domains you own, it's always a headache to search, register, and manage different domains, and the existing NFT marketplaces are not built for trading domain NFTs; ENS users have to set their primary names or controller on ENS App.
Imagine trying to remember usernames across different channels such as Twitter, BNB Chain, Solana, Ethereum, Arbitrum, etc, it's a max pain. So we really need a product that helps to connect everything up. And in this article, we will take a look at the newest project on Binance Launchpad - SPACE ID, a universal name service network with a one-stop identity platform for Web3 domains.
I. What is SPACE ID?
Already launched in September 2022, SPACE ID was launched with a .bnb Name Services on BNB Chain. Within 6 months, the protocol impressively gained huge traction from the community with a total of over 708,000 registrations and 485,000 unique domain holders on two chains, BNB Chain and Arbitrum.
Universal Identity
Along with the characteristics drawn from decentralization, censorship-resistant, open-sourced, non-custodial, SPACE ID is also aimed at a chain-agnostic platform. The protocol is building a universal name service network which will be able to seamlessly connect people, information, assets and applications across blockchain.
Some of the major advantages of a universal domain include the ability to easily establish a personal brand identity. Imagine looking for a unique name but finding out that it's already registered by a different brand. SPACE ID solves this issues by ensuring a single identity across the network. It means that the protocol allows the connection of identities from social media channels, from Twitter, GitHub, Email, for example.
In crypto space, you must be realized a lot of challenges with current domain services, it could be:
Segregated and limited within a unique blockchain.
Zero-width issues.
The connector between blockchain identifiers often lacks decentralization.
Complex registration system.
Mixing of user and brand domains.
Arduous integration for protocols.
Limited to only being a name service.
So, with universal identification from SPACE ID, dApps can achieve much better interoperability and flexibility. You can use the ID as your multi-chain identity in the metaverse: trade, lend crypto, mint NFT, or even homes in the future highly decentralized world.
Web3 Domain & Identity Platform
SPACE ID is positioned as a one-stop Web3 domain and identity platform, could be seen as a domain aggregator, like 1inch in DEXs or Blur in NFT vertical. When participating in the product experience, the author personally finds the functions and experience to be almost adequate for the current retail trading needs. With such an interface, SPACE ID can easily attract many new people to collect and trade web3 domain and identity.
II. Team and Backers
SPACE ID team members come from a Web3 native startup background. The team has complementary skill sets and various experiences in Web3, as a united force, they have full-time expertise in the realm of Web3 companies, entrepreneurship, DAO contributors, etc.
Most importantly, the project was funded by Binance Labs in the seed round. And SPACE ID is the first project to be launched on Binance Launchpad in 2023. Furthermore, the project successfully completed the $10 million strategic round, led by Polychain Capital and dao5.
III. SPACE ID Tokenomics
Tokenomics
The ID token is the governing token for SPACE ID and has a crucial role in determining the direction and future of the project, giving users a voice in the decision-making process. It is an integral part of the SPACE ID ecosystem, encouraging users to participate and help the project thrive, thereby promoting growth and sustainability. ID has three main use cases:
Staking: Stake ID tokens to receive discounts in the SPACE ID domain NFT marketplace trading fees and Web3 domain registration discounts on SPACE ID.
Payments: Used as a means of payment within the SPACE ID ecosystem and for Web3 Name SDK Integration.
Governance: ID token holders can participate and vote on SPACE ID DAO proposals.
Overall, these use cases demonstrate the versatility and potential value of the ID token within the SPACE ID ecosystem. However, their success will depend on user adoption and engagement, as well as effective implementation and management by the SPACE ID team.
Token Allocation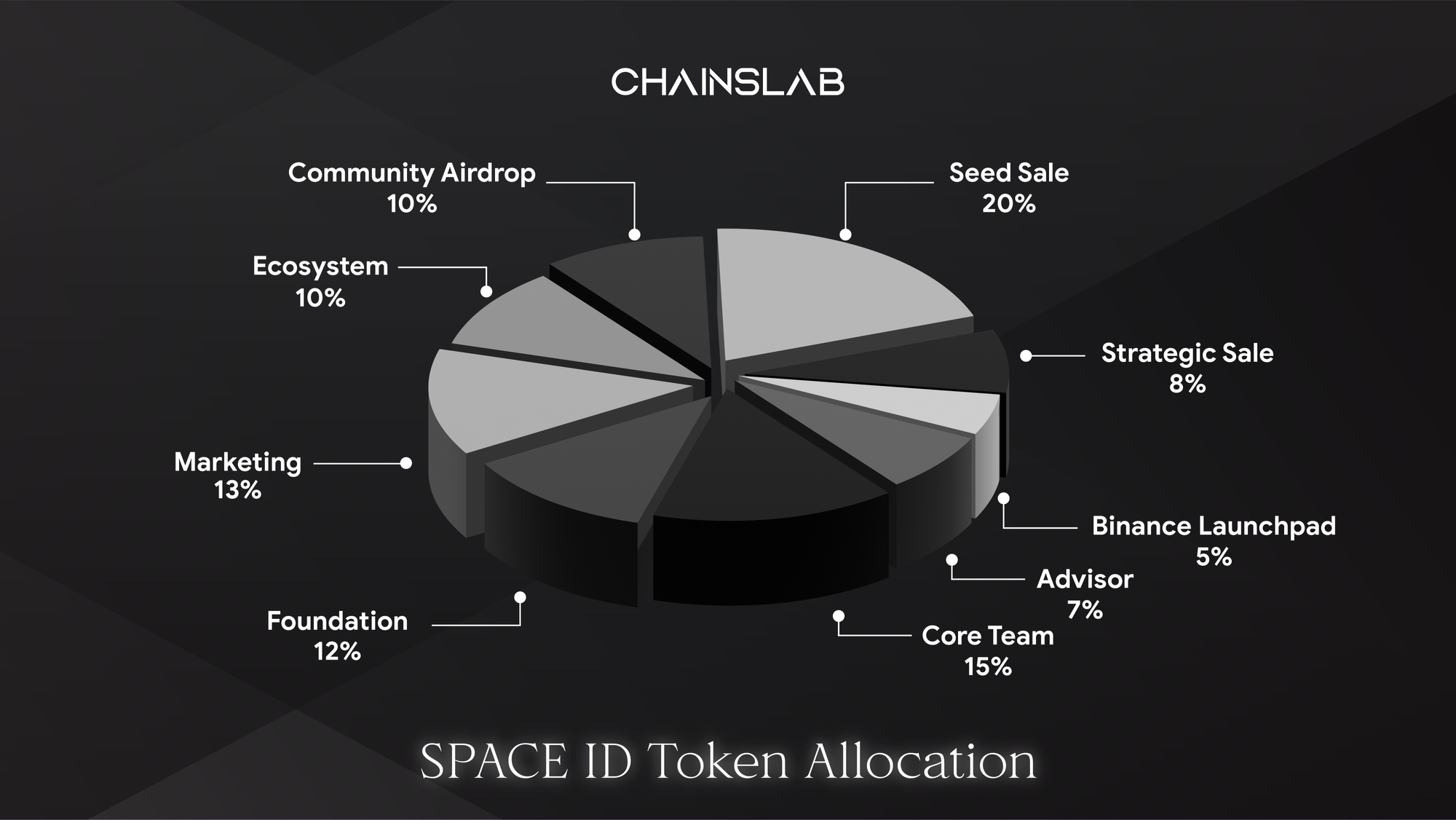 There are 2 billion tokens in total and as reported by the metrics, at launch, there will be 286 million ID (14.30% of total token supply). Binance Launchpad will sell 100 million tokens to raise $2.5 million with the token sale price being $0.025. The valuation in this Binance Launchpad round is $50 million, the same valuation as the previous Binance Launchpad project - Hooked Protocol.
Before conducting the public sale on Binance Launchpad, SPACE ID successfully raised from Binance Labs in the seed round but no disclosure amount of investment, and $10 million in the strategic round led by some renowned institutional firms. However, the author gets quite confused when determining the strategic round was recently raised, so the valuation is even x2.5 times higher than the public sale on Binance Launchpad. Specifically, they raised $10 million in return of 160 million ID tokens, equivalent to $0.0625 per token.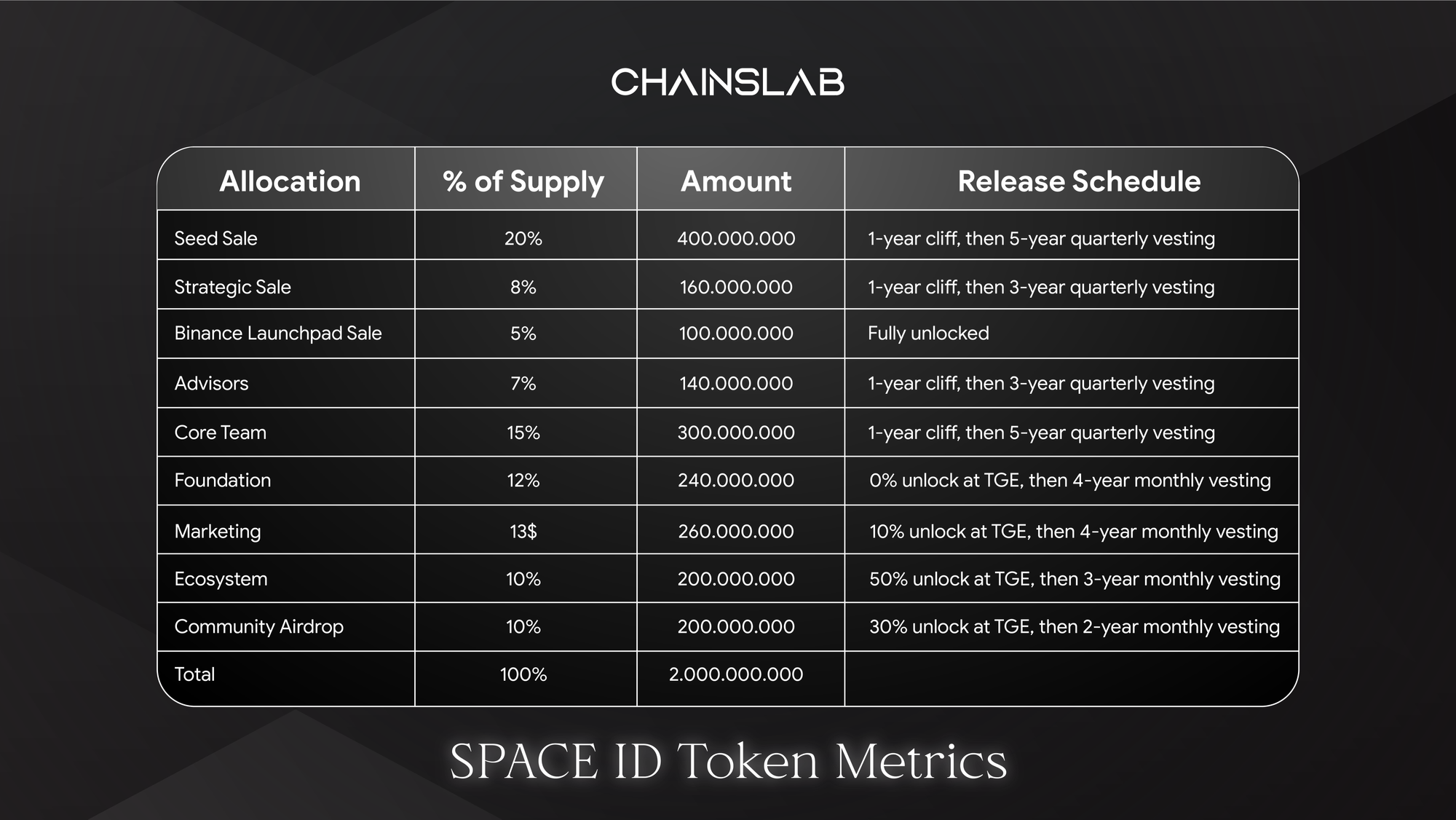 From personal thoughts, with the current market condition, Bitcoin price was up only in the last 3 months, the largest pullback since the FED starting to hike interest rate. The initial market cap when listed on Binance of SPACE ID is 50% higher, sitting at $7.15 million compared to $5 million that of Hooked Protocol. As said earlier, the market condition has changed, the bulls are back, the market has money flowing in, so that we can expect a pump higher after listing a few hours.
The author prefers the scheme of hard dump right after the ID token price has been pushed up slightly to get enough liquidity, quite similar to the price chart of $HOOK. Based on market sense, prices should be pumped higher 15x-20x, which means the price might get distributed by traders around $0.375 - $0.5.
In the long-term, such a vesting schedule, it will probably need to accumulate for quite a while until the private sale rounds are unlocked. For those who believe in the long-term potential of the project, it is best to wait for the ID price to accumulate for at least 3 months before making an investment decision.
IV. Closing Thoughts
First and foremost, currently there isn't a good standard domain name service on BNB Chain. That's why SPACE ID launched its first product, .bnb Domain Name Service, which aims to be the standard domain identifier to be integrated with its whole ecosystem. SPACE ID is building a universal naming standard and a software development kit (SDK) that not only brings flexibility and simplicity to users' Web3 interactions, but also bridges the gap between Web2 and Web3 apps.
We see digital identities are gradually becoming a core vision and inevitable in the process of Web3. ENS, DID.ID, TNS, and Unstoppable Domains have played their parts but SPACE ID is expected to take it to another level. The author believes its products are further imagining the Web3 future and the role that digital identities play because of the following three major features: one name for all chains; not just a username; security and availability.