I. Market Context
The Layer 1 (L1) sector today has a market cap of more than $275B, with Ethereum at around $200B alone.
But Ethereum still has some disadvantages which open the doors for the emergence of other L1s. Several of the largest gains in market cap in the last cycle came from alternative layer-1 blockchains.
Solana was once called the Ethereum-killer but has lost its position due to frequent downtimes and the Contagion. Later on, we have "Solana killers" like Aptos, valued at $3B, and Sui, valued at $2B.
Aptos came out a year ago, and Sui has just launched in a couple of months. Both were hype, lots of hope, and tons of excitement. But the on-chain data show that they were a flop.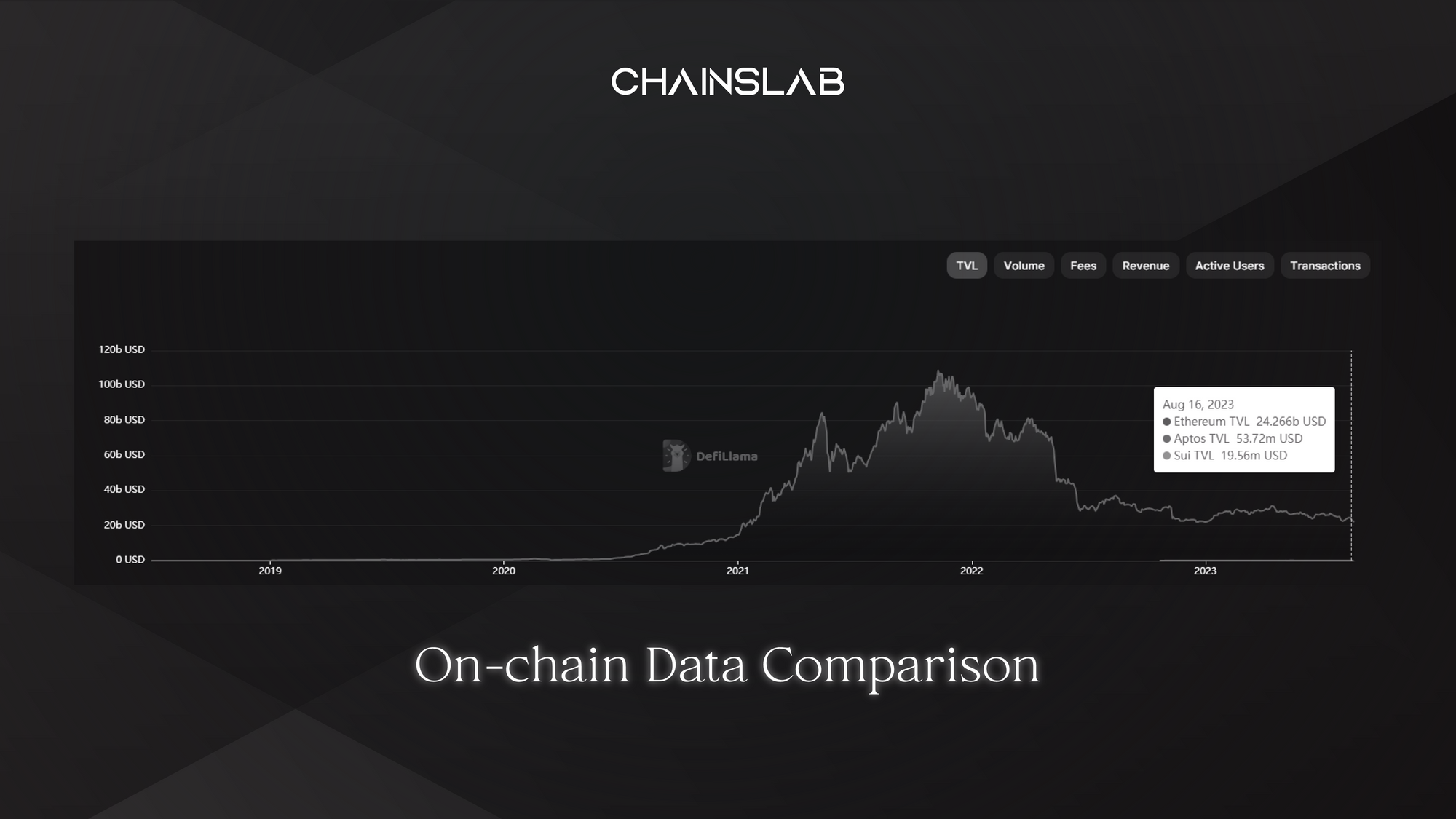 The battle of Scaling Solution doesn't just play on the horizontal line, but on the vertical line too. Layer 2 scaling solutions show up with the launch of Optimism and Arbitrum. What will accrue most of the value in the next cycle? L1, L2, or dApps themselves?
Some say that the L1 meta is dead, but many new L1s are still set to launch in the coming year. And they could gain significant market share if their unique selling point is strong enough.
Just as the Web 2.0 infrastructure specialized in serving specific major use cases as the industry matured, blockchain infrastructure also needs to specialize in catering to key application types.
Sei Network is a specialized Layer 1 blockchain designed to address the limitations of general-purpose blockchains in the trading sector. It means making fundamental changes (and tradeoffs) to the base layer that will allow DeFi applications to thrive.
Sei is a trading-focused layer-one chain, built with the Cosmos SDK. An 800 million dollar valuation project, top tier Layer 1 Blockchain, listed on Binance, Coinbase, Bybit, and other major exchanges. And yet, a handful of people still call it a scam? Why?
Let's dive in.
II. What is Sei?
Sei is an Layer-1 (L1) blockchain, specifically designed to revolutionize the world of trading within various sectors spanning across decentralized finance (DeFi), NFTs, and GameFi. Sei purpose is to become the go-to blockchain for DEXes various DEX applications.
Sei is the first order book-oriented blockchain ever built. And the fastest. It aims to achieve its ambitious goals with improvements in three main areas: performance, security, and interoperability.
Positioned as the "Decentralized NASDAQ," Sei promises a seamless blend of centralized finance (CeFi) trading experiences with decentralized finance tools.
Sei promises lightning-fast transaction finality of 500ms. This would put Sei on par or competing with centralized exchanges (CEXs) in terms of executing orders, and better than current DEXs in the market.
Compared to other general-purpose chains like Bitcoin, Ethereum, and Solana, this is what Sei claims to offer: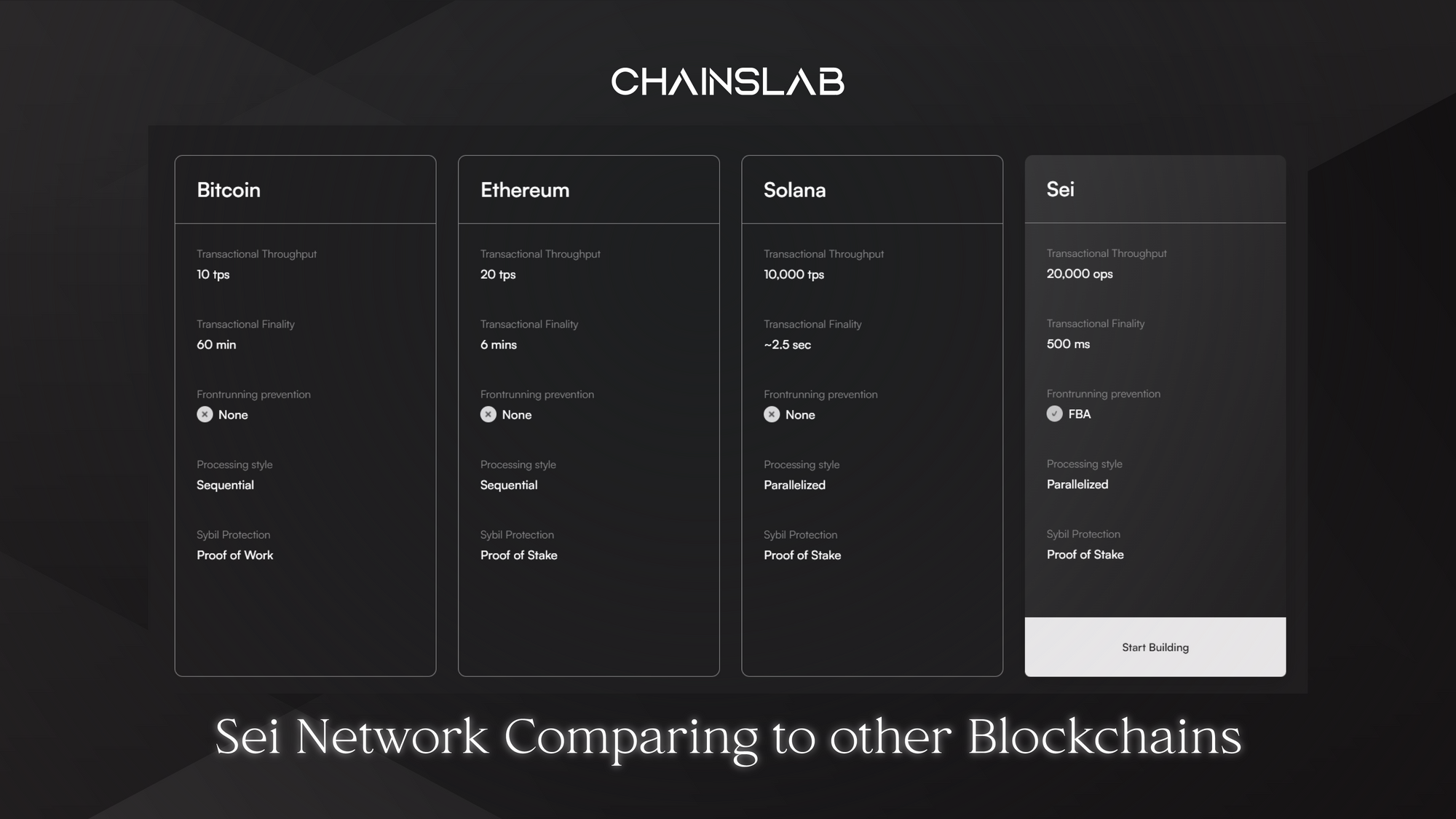 How does it work?

Sei implements several innovative features with the goal is to enabling high-frequency trading with off-chain speed while retaining on-chain security.
First, Sei executes orders with frequent batch auctioning. Instead of executing orders one by one, Sei aggregates orders at the end of the block and executes them at the same time. Thereby preventing front-running. And also solves the Blockchain Trilemma, one of the main pain points of DEXes when orders either are processed off-chain or overloaded in the on-chain process.
Second, Sei also uses native price oracles that provide reliable data feeds and minimize external dependencies. This is to provide a higher speed but still raise the question of accuracy and centralization. Unlike other DEXes, it leverages single-block order execution. Instead of dealing with the placement and execution of an order in two transactions, Sei does so in one. Moreover, it bundles orders on multiple levels, allowing market makers and pro traders to minimize gas costs.
Third, Sei promises that its tech stack makes an order book model possible, which it dubs the Centralized Limit Order Book (CLOB).
CLOB is basically an exchange-style execution method that is commonly used in the equities world where all bids and offers are matched according to price and time priority. AMM (Automated Market Makers) is a set of smart contracts that enable users to exchange tokens with the protocol. The key difference here is users trade with a computer algorithm, not another entity like with traditional exchanges (hence, automated).
Most DEXes use AMM and this solution evidently has not impressed the market. SEI aims to utilize this CLOB engine system as the bedrock of its tech. Which, in theory, abstracts more volume on Sei.
Key Features of Sei

Sector-Specific Focus On Trading
One of the key distinguishing factors of Sei is its sector-specific focus on trading, and it aims to serve as the go-to blockchain for various DEX applications. This enables Sei to tailor its capabilities specifically to the needs of the crypto trading sector including DEXs, DeFi protocols, NFT platforms, and gaming applications.
Performance Enhancement
In terms of performance, Sei promises lightning-fast transaction finality. This is achieved through the incorporation of built-in parallelization within its infrastructure. The underlying technological advancements of Sei are founded upon two groundbreaking contributions in the field of consensus research, specifically the utilization of Twin-Turbo consensus.
Security Measures
On the security side, Sei relies on the Tendermint Core consensus mechanism backing the Cosmos ecosystem. By using frequent batch auctions, Sei promises to prevent MEV and front-running. This allows apps on Sei to use its validators and guarantee a smooth trading experience for customers.
Fostering Interoperability
Sei is also partnering with several protocols to maximize interoperability. For example, it announced a partnership with Axelar, a cross-chain infrastructure provider that will improve bridging, communication with other protocols, and capital movement to and from other blockchains.
Sei Ecosystem
Sei is rapidly growing its ecosystem of projects and partners, with new protocols announced almost every week. The full list of projects on Sei can be found on the ecosystem page.
The full ecosystem of projects building on Sei is constantly growing even in the context of Testnet and early Mainnet, in sectors ranging from infrastructure, gaming, DeFi, NFTs, wallets, and more.
People can say that there are plenty of fish in the Sei.
The Sei Team
Sei was founded by Jeffrey Feng and Jayendra Jog, who both have a vast experience in the tech and Tradfi industry.
Jeffrey Fend has graded the Highest Honors in Business Administration at the University of California, Berkeley. He has 3 years of experience at Goldman Sachs and 2 years at Coatue Management.
Jayendra Jog has a bachelor of Sience at UCLA. He has more than 3 years of experience at Robinhood.
The founding team of SEI comprises is made up of former employees from Goldman Sachs, Databricks, Robinhood, Google, and Nvidia.
They also have huge backers, named Multicoin Capital, Coinbase Ventures, Delphi Digital, GSR, Jump, and more.
One thing in common between Sei founders and Sui or Aptos Founders is that they are both Silicon Valley founders, full of experience in the fields of technology, finance, and startups but lack experience in the crypto industry.
The second thing in common is that these are all their first crypto products. The question of whether they will succeed or fail will take time to answer. However, until now, both Aptos, Sui, and Sei are facing certain different problems that make them not really successful.
III. Sei Tokenomic & Valuation
Sei operates as a decentralized "Proof of Stake" blockchain, powered by the SEI token. The SEI token serves several functions on the network:
Network Fees
DPoS Validator Staking
Governance
Native Collateral
Fee markets: Users can pay a tip to validators to get their transactions prioritized, which can be shared with users that are delegating to that validator.
Trading Fees
Right before its Binance listing, Sei announces the Tokenomic.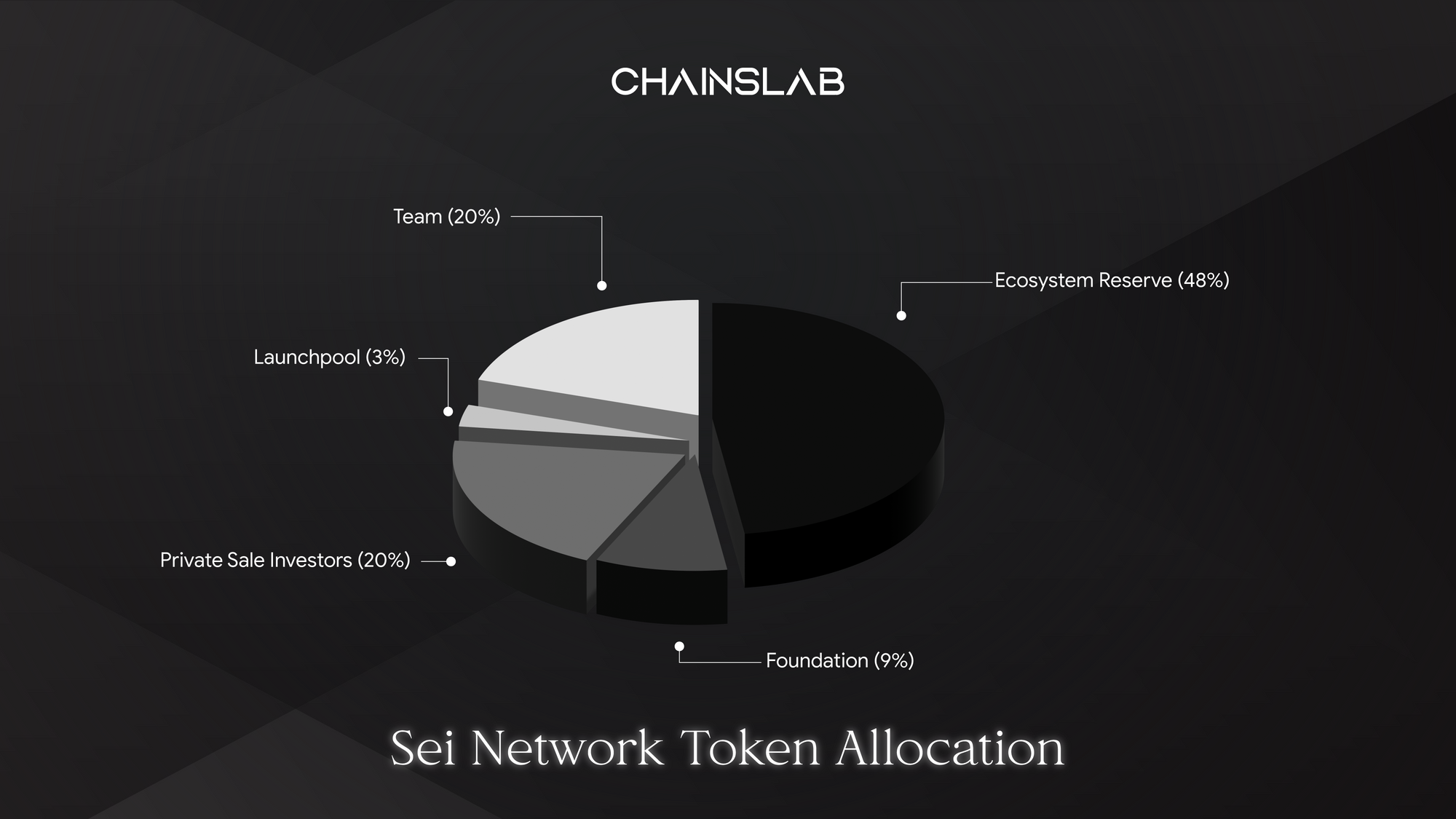 The maximum issuance of $SEI is set at 10 billion tokens, with a predominant share dedicated to the community and initiatives developed on Sei.
A big chunk, 48%, of the SEI token supply is reserved for the ecosystem. This allocation is multifaceted: Staking Rewards and Ecosystem Initiatives.
Sei Airdrops and Incentives: To further increase community engagement, a segment of the SEI supply is set aside for airdrops, testnet rewards, and programs aimed at swiftly circulating SEI among its users. Notably, 3% of the SEI token supply is designated for the first rewards pool, named "Season 1". We will get into that later.
Additionally, to ensure the Sei Foundation's sustained operations and growth, a dedicated 9% of SEI tokens have been allocated to its treasury. Moreover, there is a 3% allocation to Launchpool.
The only downside of this Tokenomic is the lack of information on how the token is allocated, especially in the Ecosystem Reserve. And the emission is also unclear, we don't know when the token is fully diluted.
Valuation
On August 13, 2022, Sei announced via its official Medium page that it had raised $5 million in the first funding round for the project. Leading the funding round is Multicoin Capital with participation from Coinbase Ventures, Delphi Digital, Hudson River Trading, GSR, Hypersphere, Flow Traders, Kronos Research, and other VCs.
More recently, on April 11, 2023, the project announced that it has raised $30 million from two funding rounds from investors including Jump, Distributed Global, Multicoin, Asymmetric, Flow Traders, Hypersphere, and Bixin Ventures.
This funding round brings the project's valuation to $800 million.
On August 15, 2023, SEI got listed on Binance, Bybit, Bitget, Upbit (South Korean-based Exchange), and several other major exchanges. The SEI trading volume on day one reached $1.14 billion, according to CoinGecko data, with South Korean-based Upbit and Binance leading the pack.
At the time of writing, the token was trading at $0.15. With a total supply of 10 billion SEI, now the fully diluted valuation of Sei Network has reached 1.5 billion dollars.
There was a time when it reached a 2.8 million dollar (and more) valuation. But that will not likely happen again, considering the hashtag #SeiScam is dominated on Twitter.

IV. #SeiScam ?
The buzzword in business and finance right now is #SeiScam. At the time of writing, there are 109K (and counting) posts with the hashtag on Twitter. The most popular one:  
It all started on a Wednesday afternoon when the airdrop is delayed. The SEI tokenomics previously indicated that they allocated a majority of tokens to ecosystem reserves (48%), the SEI Foundation (9%), and airdrop incentives (3%). 3% means that 300 million tokens are up for airdrop.
Things went South when a team member announced in their Discord channel that the "airdrop is ready" but they're waiting for "ecosystem partners to complete their work" before enabling claims. Big red flag.
And when the Claim Page eventually goes live, almost no one is able to claim. Instead, they receive a message saying that "You are not eligible :(".
Even someone who is "eligible", can only receive a couple of dozen tokens.
Rumors have it, Sei requires KYC and face scans for the airdrop. I personally have seen a picture of Airdrop requiring an Account & Password, just like the Web2 interface. Sei later states that is only rumors.
Now, the people really mad. They dive deeper and found that there is an Ambassador Program. There were 5 main roles in total: officer, captain, major, colonel, and admiral. Initially, the project documentation indicated awards starting with the role of "Officer". Then it was announced that the awards will only be received starting from the role of "Captain".
"During the year of the ambassador program, how many people do you think received the title of ambassador? No one." No one means no one receives a single airdrop token.
And in times of crisis, what do the Sei team do? They lock down their Discord channel. I don't think that is a wise move, and I don't expect that move from a team full of elite engineers and entrepreneurs in the industry.
They can stop people from saying things they don't like on their Discord, but not on Twitter. The trending hashtag is raising in posts and comments. And the momentum showing it will not stop.
How come an 800 million dollar project, top tier blockchain, the Solana-killer being called a scam? The answer: The power of Community.
"The Sei community, known as Seilors, is a driving force behind the platform. Comprising experienced traders, developers, and enthusiasts, the community actively participates in the platform's development and governance processes. This collaborative approach ensures that the platform's features and improvements align with the users' needs, strengthening its capabilities and facilitating seamless adoption." - https://medium.com/@Iamcryptogirl
Yes, the Sei community indeed is the driving force behind Sei Network. And when you disappointed them, guess who take the hit?
The event of Sei Airdrop can be concluded into these main points:
Too many tasks but few rewards
The broken promises on their Airdrop delivery
The lack of details on the Airdrop claiming process
The silence from the team
Well, the Sei airdrop is one of its kind and indeed reached out to every corner.
Is Sei a scam?
Technically, Sei is not a scam. A scam by definition is "a dishonest plan for making money or getting an advantage, especially one that involves tricking people".
They are not taking their community money. They only fail to deliver the money they promised.
However, in terms of morals, they did scam. They trick the community to do tasks for them but in return, they are not rewarding the community worthy of their work.
V. Conclusion
In the world of cryptocurrency, speed is one of the most desired aspects. Sei will be a new and innovative Layer 1 in the blockchain space, specialized for trading, with fast transaction speeds, low fees, and high throughput.
Sei offers a promising environment for any type of trading app, including DeFi DEXes, NFT marketplaces, and gaming DEXes.
Should Sei become successful in the future? Yes, they can, if they can manage their ongoing crisis.
The 2 lessons that we learned from the Sei event:
Airdrop is a powerful weapon. But it is a sword with 2 edges.
You should never underestimate the power of community.
Me personally do think that Layer 1 narrative, Ethereum-killer, Solana-killer, etc is way out-of-meta. Now it's time to search for dApps that have real usages, real users. Apps that can make our lives easier.
Perhaps a new CLOB PerpDEX built on a brand new L1, or a new Metaverse built on top of a zero-knowledge L2 will take off. Or maybe SOL change into a dApp token can make it? Much of the technology that will be taken for granted in decades to come is maybe in the process of being invented and refined right now. Some of the biggest winners of the next cycle will be found, but the Ethereum ecosystem has never looked stronger than it does today.
That is all for this article, stay safe and keep your head above water.