Many users and Dapps chose Ethereum blockchain to store their coins or build their projects. However, users have been getting disappointed with the high gas fees and prolonged transaction processing of Ethereum. The launch of Binance Smart Chain (BSC) in Sept 2020 had stolen Ethereum's thunder with lower fees and the ability to handle more transactions. Of course, it has been one of the most popular blockchains for DeFi.
To better understand the BSC ecosystem and its propensity, kindly read this article which can somewhat assist you with your short-term or long-term investment.
I. BSC Overview
Introduction
BSC is a hard fork of the Go Ethereum (Geth) protocol that Binance develops. Moreover, BSC is EVM (Ethereum Virtual Machine)-compatible; thus, Dapps and smart contracts built on BSC and Ethereum share several similarities. This feature makes BSC outweigh other blockchains such as Solana. EVM compatibility enables cross-chain transfer and other communications; hence, DApps or smart contracts built on Ethereum can easily be transferred to BSC.
The native token of BSC is BNB (Binance Coin) which also represents the Binane exchange and Binance ecosystem. Binance coin has many use cases, such as using for liquidity on the Binance DEX, staking on Binance Launchpool to receive new tokens, or investing in new ICOs on Binance Launchpad. BNB, moreover, plays a central role in DeFi applications.
BNB is ranked at 4th place on Coinmarketcap, and its price is traded around $400/BNB at the time of writing.
For more updated information on BNB coins, please visit:
https://coinmarketcap.com/currencies/binance-coin/
Numbers of Dapps built on BSC
According to statistics on the DappRadar website, more than 1200 projects are built on the BSC blockchain. Those projects have been classified as follow:
DeFi: over 800 projects such as PancakeSwap, Autofarm, Pancake Bunny, 1inch Network,…
NFT and games: about 80 projects, such as CryptoBlades, My Defi Pet, Mobox,…
IDO platforms: About 15 projects such as BSCpad, Yellow road
Others
Partners, backers and investors
As one of the most popular blockchains, BSC also cooperates with many big partners such as CertiK and Quantstamp for auditing, Chainlink (Oracle) and other stored wallets such as Trust wallet, Coin98 wallet (These partners do not include dapps built on BSC).
The most prominent backer and investor on BSC is Binance DEX. Binance investment fund known as Binane Labs is one of the most well-known ventures in the crypto world.
II. BSC and its main stages
Since its launch, BSC has passed through 3 main stages: start-up, explosion, and saturation.
Stage 1: Start-up (9/2020 - 3/2021)
Sept 2020 was the time when BSC had been introduced together with use cases of BNB. As a newbie in the blockchain market, BSC was challenged to attract new and potential users and projects interested in using the BSC ecosystem. Ethereum, however, was at its peak time with numerous Defi apps and users using its ecosystem.
Yet, BSC had used several strategies to attract new developers, such as Most Valuable Builder, Build Reward Program with the total rewards up to billions of dollars.
With high gas fees and slow transaction speed, users on the Ethereum blockchain have become frustrated and sought to enter alternative networks.  Around Feb-Mar/2021, BSC had attracted more users because of its low transaction fees. Furthermore, many projects regarding AMM, Stablecoin, Lending and IDO Launchpad built on BSC have started to attract more attention from the crypto community.
Stage 2: Explosion (3/2021-5/2021)
This period is when BSC steals Ethereum's thunder, entering into its "golden age". Per DappRadar stats, BSC has recorded 11.8 million daily transactions on May 14th 2021, while Ethereum has never recorded more than 1.75 million daily transactions.
According to data on Defistation.io, the TVL (Total value locked) of BSC DeFi has jumped from around $15 billion in Mar/2021 to more than $50 billion in May/2021.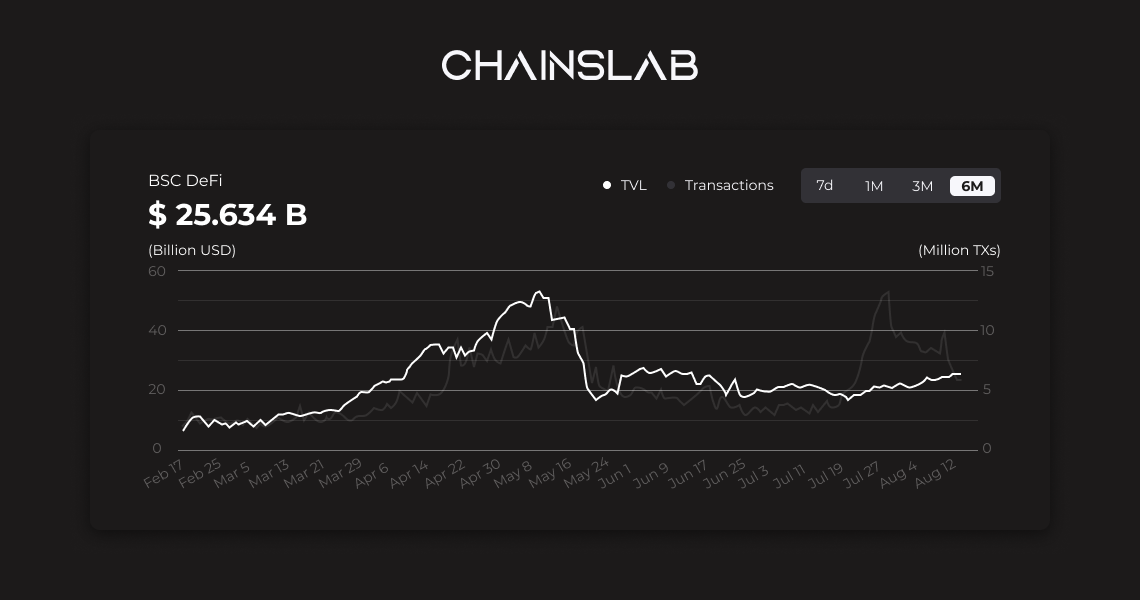 Generally, most projects choose to develop on Ethereum and then move or expand to the BSC network. However, we have witnessed many new projects put their trust in BSC blockchain and initially build their projects on BSC.
A pioneer in the BSC network is PancakeSwap. It has become a liquidity centre for the ecosystem. Moreover, PancakeSwap also accounted for 28% of the Total value locked in BSC.
Other top projects on BSC ecosystems are the biggest NFT platform - BakerySwap, Venus (Lending platform) and PancakeBunny (Yield Aggregator)...
The BSC ecosystem has proved itself a formidable opponent with its growing users, community and technology.
Stage 3: Saturation (5/2021-current)
On May 19th 2021, the entire crypto market went through a sharp decrease, and BSC is no exception. On the same day, the highest BNB price was $507, and its lowest price was $280.
However, even before the market's rapid decline, the BSC ecosystem had shown signs of saturation. First, the TVL of BSC Defi dropped gradually to approximately $17 billion. Second, low-quality projects appeared, and several of them had been hacked.
Around June/2021, when DeFi projects seem to be no longer attractive, the community pays more attention to the NFT trend. BSC has announced the launch of Binance NFT Marketplace. However, as the crypto community is still in extreme fear after the crypto market drop, the launch does not make much difference.
From July till now, the explosion of the play-to-earn trend has become a stepping stone to make the entire crypto market flourish again. On the contrary, the BSC ecosystem does not appear to be vibrant once again.
At the time of writing, TVL on BSC DeFi is a bit over $25 billion, and BNB price is traded at around $400.
III. BSC Ecosystem
Infrastructure and Tooling
The BSC ecosystem has a solid foundation and infrastructure that encourages developers to build their projects. Moreover, BSC also complements excellent features from other projects to help recent and potential developers. For example, BSC cooperates with the following projects and ecosystems:
Chainlink and Band Protocol from Oracle
Auditing with CertiK, Quantstamp and PeckShield
The Graph and Bitquery for blockchain data
BSC Bridge and AnySwap for moving assets
Blockchain monitoring: BSC Scan, Tenderly, PARSIQ
Smart contract & API Creator: MyWish, ChainIDE...
BSC aims to expand its blockchain utility to the crypto market and the traditional business regarding data storage and high-speed data transmission. Therefore, it leads to the emergence of projects such as InfStones and ChainStack that target traditional business by solutions of BSC Blockchain.
BSC has also announced seven websites that users can use to track projects running on the BSC ecosystem, including DeFi Station, BSCProject, DappRadar, Dapp.com, Math dApp Store, BSC Scan Yield Farm and DeBank. As BSC is a decentralised platform where anyone can build their projects, users should be careful when investing in BSC DeFi. Any investors must conduct thorough research on the security and safety level of projects.
Please visit https://www.certik.org/boards/bsc to track projects audited by CertiK.
Stablecoin
Stablecoin plays a vital role in the operation of the crypto market as it is a type of cryptocurrency whose value ties to an outside asset. Moreover, it is also used to avoid the price volatility of other cryptocurrencies such as BTC, ETH, BNB and others. Stablecoin can be used as an indicator that helps investors know the inflow/outflow of cash flow among ecosystems or even in/out of the crypto market.
Following are several typical stablecoin circulating on BSC:
Fiat-backed stablecoin: BUSD, USDT, USDC…(It is controlled by real-life financial institution)
Crypto-backed stablecoin: VAI, DUSD… (It isn't easy to expand and optimise capital)
Algorithmic stablecoin: Ditto money, bDollar… (Users seem not to put their trust in this stablecoin)
The above stablecoin have several mentioned disadvantages. Thus, Vault Finance - a DeFi Station on BSC announced to launch WUSD - a commerce-backed stablecoin. WUSD is primarily supported by commercial activity. It means WUSD's peg will be supported by all activity that takes place on Vault Finance, especially WSwap - a leading DEX on both BSC and Polygon.
Lending
There are many Lending protocols in the BSC ecosystem. Lending is an indispensable piece in the ecosystem puzzle as it helps improve the efficient use of capital in any ecosystem.
Several outstanding Lending protocols on BSC are:
Venus (XVS, VAI): Its TVL consistently ranks number 2 on the BSC, only after PancakeSwap. Venus also has operation methods similar to MakerDAO.
Other Lending protocols: Alpaca Finance, Rabbit Finance, CREAM...
Furthermore, Multiplier Finance launched its V2 on August 2nd 2021. According to BSC News, the launch of Multiplier V2 will set new standards for BSC Lending. Below are a comparison among Multiplier V2 and other outstanding Lending protocols on BSC: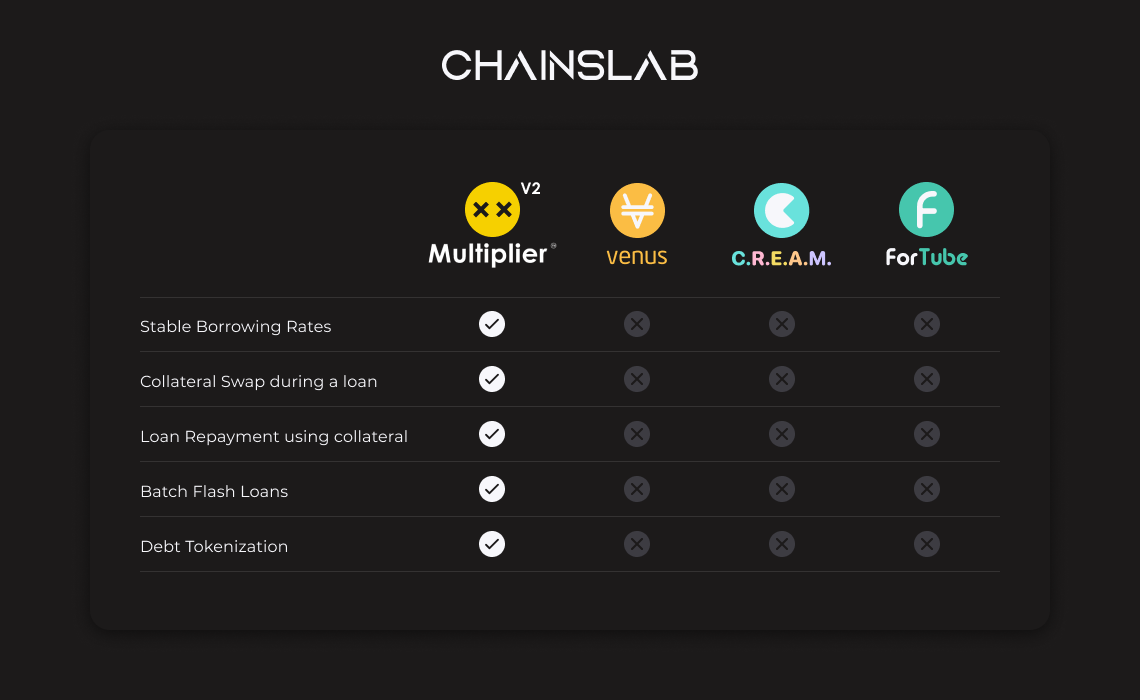 AMM DEX liquidity
AMM platforms (Automated Market Makers) are decentralised exchanges where users trade against a pool of tokens instead of trading between buyers and sellers. Smart contracts play a role as intermediaries which help automated trading in liquidity pools. AMM DEX offers deep liquidity, low transaction fees and 100% uptime to the most significant number of users whenever possible.
Below are several impressive AMM platforms on the BSC ecosystem:
PancakeSwap: It is constantly ranked 1st regarding TVL and is the biggest AMM exchange on the BSC.
Stablecoin AMM DEX: Ellipsis Finance, Belt Finance,...
Other notable AMM DEX: BakerySwap, DODO, MDEX, 1Inch Exchange,...
Yield Aggregator
Yield Farming is a bit complicated and not a friendly experience for most users because of its lengthy steps such as swapping tokens, depositing into liquidity pools, staking, claiming and selling rewards and repeating these steps. The appearance of the Yield Aggregator makes it easier for users as it helps to pool deposits together and simplify the user experience.
Moreover, Yield Aggregator is also a platform that helps users optimise their rewards and profits by choosing high yield pools or allowing users to claim native tokens of the platforms.
Some remarkable Yield Aggregator on the BSC are:
PancakeBunny: Focus on PancakeSwap Pool for CAKE holders
Beefy Finance: more than 80 pools on BSC and launched on other ecosystems such as Polygon, Avalanche, HECO Chain and Fantom.
Others: AutoFarm, Swamp Finance,...
NFT
2021 can be seen as the year of the NFT trend, and BSC will not stay out of this. In June/2021, BSC launched the Binance NFT Marketplace and more than 80% of new NFT-related projects.
Binance NFT Marketplace has divided into two sectors:
FEATURED by Binance: It is a Decentralised NFT Marketplace where users need to connect their non-custodial wallet to access the platform. NFT in this platform is self custody, and users also need to pay a gas fee.
Binance NFT: It is a Centralised NFT Marketplace that Binance.com hosts. Users do not have to pay a gas fee and can access using their Binance account. However, NFT will be held and managed by Binance.
Outstanding NFTs projects on BSC:
NFT Issuer: BakerySwap, Bondly Finance,...
NFT Marketplace (combined with DeFi): Bounce Finance, Treasureland, Bunny Park...
Gaming: CryptoBlades, MOBOX, My Defi Pet,...
DeFi Station
It seems that the DeFi trend is continuing to expand on the BSC ecosystem. Meanwhile, more and more projects have the vision to develop towards DeFi Station. In short, DeFi Station seems to be a combination of crypto puzzle pieces into one project. For example, PancakeSwap is originally an AMM DEX; however, it now can have launchpad features, NFT (collectible) or lottery functions.
There are many excellent DeFi stations that users can experience, such as:
PancakeSwap: AMM DEX, IFO (Launchpad), Collectible (NFT), Lottery, Prediction,…
BakerySwap: AMM DEX, NFT Issuer, NFT Marketplace, Launchpad, DeFi Game,…
Wault Finance: AMM DEX, Launchpad, Stablecoin,…
Nerve Finance: Stablecoins AMM, Bridge,…
One of the DeFi Stations on BSC that is worth notice recently is Apeswap. It is initially an AMM DEX; however, noticing the growth of DeFi Stations, Apeswap had produced other products such as NFT, Farming and Launchpad. Shortly, Apeswap also will launch Leveraged Trading and Indexes.
IV. BSC ecosystem and its security problems
May/2021 was a black month for the BSC ecosystem as 11 projects were attacked with a total loss of up to $300 million. Therein, the most cursed project was Venus, with around $200 million losses.
On June 21st 2021, another victim shared the same fate as others in the BSC ecosystem. Impossible Finance suffered $500K losses in a flash loan attack. It again raises the alarm as to whether the BSC system is secure, which one would be the next victim or whether users should flee out of BSC?
To avoid further exploitation or attack, BSC has tried to cooperate with other prestigious and quality auditing organisations such as CertiK, Quantstamp, PeckShield. The most recent auditing firm is CipherTrace, a cryptocurrency intelligence company delivering solutions for crypto money laundering, financial investigation, and fraud detection.
Even users of attacked projects do not lose their capital; however, the project's token prices drop dramatically, eventually affecting investors. Thus, to minimise risks when investing or using DeFi projects, users should first check the security of the projects, then allocate farming or staking on different ecosystems and create several wallets to transfer assets regularly.
V. BSC ecosystem and investment opportunities
There are many forms that the community can invest in the BSC ecosystem. For example:
Invest in coins/tokens: There are more than 200 coins/tokens in the BSC ecosystem, and the most popular one is BNB. At the time of writing, the crypto market has experienced a gradual recovery after the sharp decline on 19/05/2021. Thus, investors should analyse the movement of the entire market to choose the best position to enter. Moreover, it is more secure to invest in the top coins/tokens of the BSC ecosystem, such as PancakeSwap (CAKE), 1Inch Exchange (1INCH), Venus (XVS), BakerySwap (BAKE),...
Participating in IDO is an excellent way to make profits when taking part in the IDO launch of new projects. However, it would help if you spent time finding and analysing upcoming projects thoroughly before making any decision. Several IDO platforms on BSC are PancakeSwap, Polkastarter, KickPad,...
Holding coins/tokens of IDO platform: When holding IDO platform tokens/coins, holders gain profits and increase chances to participate in IDO launches. It is absolutely an ideal strategy to make profits in the uptrend season. However, when the market does not show a clear sign of its movement, investors need to be more careful to hold IDO platform coins/tokens or buy new tokens from IDO launches.
Farming, Staking and Lending: With long-term holders, Farming, Staking and Lending seem to be efficient to increase the number of their coins/tokens and maximise profit. In the BSC ecosystem, users can choose Venus, Cream Finance, ForTube,... (for Lending); PancakeSwap, BakerySwap,... (for Farming); and Beefy Finance, AutoFarm,... (for Yield Aggregator).
VI. Conclusion
To summarize, the BSC is still a redoubtable opponent in the blockchain system. Even though it has gone through an expansion period and entered into a stagnation age, there is no clear sign of users trying to flee out of the ecosystem. Following are critical points that readers can take into consideration:
TVL of BSC DeFi is increasing gradually; however, daily transactions are not as much as before.
Top-tier projects in the ecosystem are attempting to expand to become DeFi Stations.
As the Play-to-earn trend currently attracts the community, the Binance NFT marketplace is less vibrant than expected.
The above is the most crucial knowledge concerning the BSC ecosystem. Any other new information will be updated regularly. Please keep an eye on our website to stay updated.